We are very happy that we had an inspiring kick-off event for the Industrial Data Lab in our lab premises at the University of Stuttgart on 13th of October 2022. More than 50 participants from various Bosch business units as well as from different university departments had the possibility to listen to motivating key notes, get to know each other personally and join lively discussions around the broad topic of data.
For the first time, we brought our core community together for innovation, knowledge exchange and talent development and followed a versatile agenda.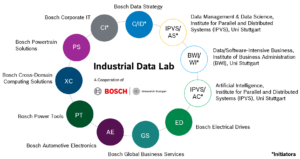 We have already defined manifold activities and we want to thank all contributors, partners, supporters and attendees for their participation.